During the 2nd semester (spring), the Color Guard competes on their own as a Winter Guard in the the WGASC (Winter Guard Association of Southern California) Circuit.
CONGRATULATIONS!!! The following students auditioned and earned a spot in our Winter Guard for the 2018 season!!
Amy Dao
Iris Martinez
Bricia Nguyen
Karen Nguyen
Sydney Nguyen
Trish Nguyen
Vivian Pham
Christina Yang
Per. 5 GOOGLE CLASSROOM CODE: hmi8u9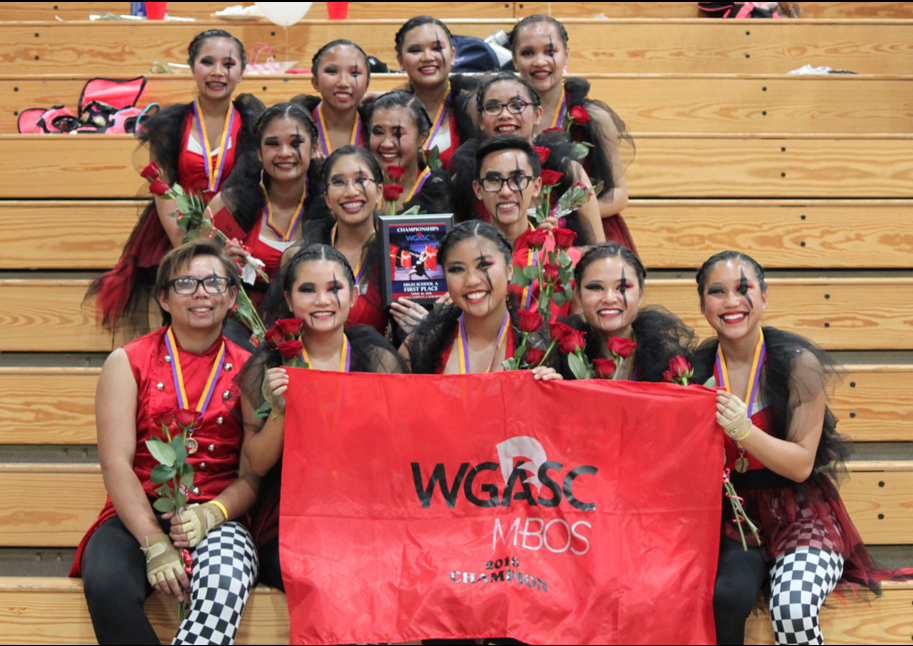 2016 WGASC HS A Round 5 Champions!!
Weekly Rehearsal Schedule (starting December 11, 2017): 
Mondays and Wednesdays – 4:30pm to 6:30pm (Mondays); 7pm to 9pm (Wednesdays)
2018 Competition/Performance Schedule (WGASC – HS AA):
Sat., February 10, 2018 – WGASC Classification Show – Woodbridge HS
Sat., March 3, 2018 – WGASC OC Valencia (OC) HS
Sat., March 17, 2018 – WGASC Westminster HS
SUNDAY, March 25, 2018 – WGASC Woodbridge HS

TBA – GGUSD Winter Exhibition at LQ Gym – 7pm

Sat., April 14, 2018 – WGASC Ocean View HS
Sat, April 21, 2018 – WGASC Championships – Location TBA
WGASC Member Profile – La Quinta HS (OC)
2018 Results:
WG ROSTERS
WINTER GUARD HISTORY
2003 – Ish Ko Matlb
2004 – Now is Forever (music by Eiffel 65)
2005 – Napoli (music by Rosemary Clooney and Bette Middler)
2006 – Oh What a World
2007 – Varsity: Life is a Rainbow (music by Amos Lee); JV: Wanted Dead or Alive (music by Bon Jovi)
2008 – Varsity: Case Closed (music from Brandon Webster); JV: Tina Turner (music from Ike & Tina Turner)
2009 – Mummy's Temple
2010 – Seasons of Love (music from "Rent")
2011 – Life in the Bayou (music from Straight No Chaser)
2012 – The Maker (music from "Doctor Who")
2013 – Eyes (music by Kaskade)
2014 – Stay (music by Shakespeare's Sister)
2015 – When Life Gives You… (music by Alex Boye)
2016 – Strings Can't Hold Us
2017 – Legacy
2018 – TBA
VIDEOS:
LQWG '15 – "When Life Gives You…"
WGASC Regional AA Championships – 1st Place!! (91.54)
DOWNLOADS: